woob dating-qt

Graphical application able to interact with dating websites, and help you manage your numerous conquests.
It supports the following websites:
Get woob dating-qt
This application is part of woob. To install it, please read this page.
Dependencies
In addition to woob dependencies, woob dating-qt requires:
Screenshots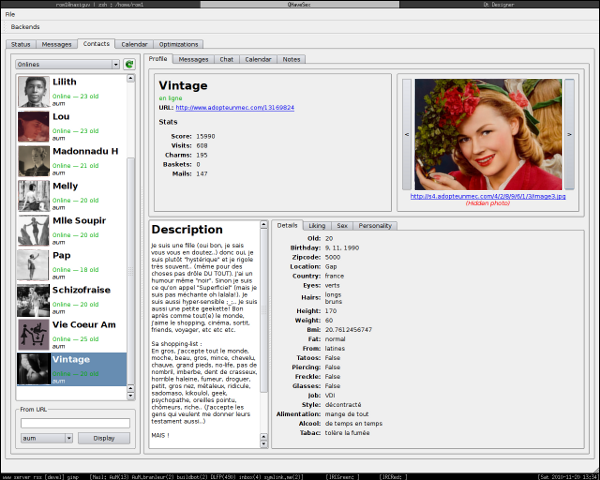 Features
This application is currently in development so not all of the features listed below are implemented yet.
Status
Every loaded backend is displayed in a box with several information about the account (misc stats, and things the website doesn't provide. For example, the number of contacts in every group, exchanged messages, etc.
Messages
List of threads with the ability to reply. It embeds woob msg-qt in this tab.
Contacts
A list of contacts is on the left, with on top a combobox to choose what group to list.
Possibility of groups: online offline planned (not yet contacted) in their "cart" * met
And of course the possibility to create new groups. A contact can be in several groups.
On the right, there are several tabs, functions of the implemented capabilities by the associated backend of the selected contact:
Profile: Profile of contact, with the photos and every available information. The most difficult will be to have a beautiful display, because the application doesn't know the profile's fields.
Messages: List exchanged messages. They are listed one under the others, like on adopteunmec.com. It is also possible to answer.
Calendar: Manage the calendar of the contact (to know when she isn't available), and the meetings with here.
Notes: Text field to add arbitrary notes about the contact.
Instant Messaging: It would be interesting to include a

MSN

client in this tab.
Calendar
This tab manages the global calendar, to see the agenda of every contact, your dates, to know for a day who is available, etc.
Places
Management of the meeting places, with for each some stats for the number of contacts met, your success rate, which seduction methods have been used, if they worked or not, if you've slept with the contact, which sexual positions, etc.
It would also have graphs.
We could also relate places to CapPlaces, a future capability to manage places (like Allomatch). Thus we could know for a specific evening, among the registered places, where there isn't any football match being broadcasted.
Optimizations
List every optimizations activated for accounts, and display information on each.